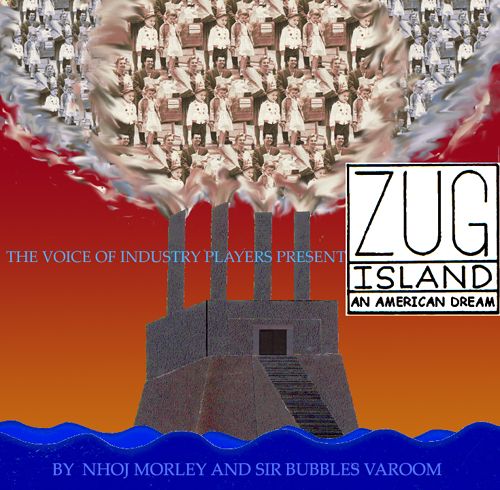 Zug Island was first conceived in 1977 and commited to production in 1986. My late pal and writing partner made me promise to forever credit him as Sir Bubbles Varoom. Our first script session was the day that Attorney General Ed Meese announced the diversion that became the Iran-Contra affair. Those events and characters permeate the story and many things mentioned date it to the mid eighties. At that time, however, a tale of Americans linking into a virtual community via computers was near impossible for many to grasp. Twenty-six years later, this is no longer a problem. Using colliding advertising icons to do it may still be a problem but this is a story about the mass-consciousness and the concepts that connected us long before the internet came along. While this is a comedy, all of Hank's lines and many of Ken's are taken verbatim from a single episode of ABC's Nightline.
The Voice of Industry Player was an ad-hoc group of bandmates and friends with fabulous voice talent and a few victims that we managed to stuff into some headphones one day.
Zug was recorded in various locations over the course of a year. Each half-hour episode was mixed full-length into a VHS hifi recorder in a crazy process involving hundreds of synchronized cues. Primary material was cramped onto a Teac 4-track with as many as fourteen cassette decks being hand-synced in the background.
It's quirky and probably a little hard to follow but it still makes me giggle here and there. Too many of the participants were my pals who have passed on in ways that were very sad. They were here and this little backwater internet page is here to prove it.